IPM Laboratories, Inc. produces 7 species of beneficial organisms and distributes more than 50 other species.

Our mission is:
Supply healthy beneficial organisms for the biological control of pests and
Support their successful use.
We work hard to ensure that our customers experience success with their biological control program. To support that effort we strive to meet the following ethical guidelines: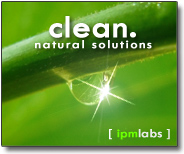 Provide detailed information on the beneficial organisms they have ordered to ensure their successful use
Provide a fast and reliable supply of healthy beneficial insects
Perform routine quality inspections of beneficial insects prior to shipping to ensure they are healthy
Guarantee healthy insects are shipped and received
Offer a full line of biocontrols
If we don't sell it, assist in locating it
Remain independent of producers and suppliers from whom we order so as to provide the best species available
History
IPM Laboratories, Inc. was founded in 1981 as IPM Services and offered pest management and consulting. In 1985 we began producing beneficial insects and incorporated under our current name. In 1988 we published our first catalog and newsletter for the greenhouse and nursery industry.
Today we supply beneficial insects and information (in the form of articles, fact sheets and conference presentations) on integrated pest management, individual pests and environments. Our region is nationwide.
Management
Founder and president Carol Glenister is a pioneer in commercial biological control and IPM. She has been strongly dedicated to the study and promotion of biological control since 1974. An IPM consultant since 1981, she has a Bachelor of Science from SUNY College of Environmental Science and Forestry and a Master's Degree in Entomology from Cornell University.
Carol is an active collaborator in the development of industry-wide standards of conduct and quality control, as follows:
Past president and current member of the Association of Natural Bio-Control Producers (ANBP) Board of Directors.
There is a concerted effort by members of the ANBP to build an ethical and technical framework that will foster excellence in the industry. The ANBP is the only professional organization representing the biological pest control producers in North America.
Formed in 1990, ANBP has about 100 members, 37 of which are producers or suppliers. Primary goals are advocacy for the production and use of biological controls, work on regulatory issues facing the industry, communicating with the research community, and supporting quality assurance development.
The ANBP Code of Ethics can be viewed at its website, www.anbp.org
Chair of ASTM International's subcommittee E35.30 on Natural Multi-Cellular (Metazoan) Biological Control Organisms.The charge of the subcommittee is to develop standard definitions, classifications, appropriate test methods, and recommended practices for quality, handling, distribution and use of natural multi-cellular biological control organisms. The goal is to create standards of quality that everyone believes to be fair when evaluating product.ASTM International (www.astm.org) is a non-profit international organization whose purpose is "the development of standards on characteristics and performance of materials, products, systems and services; and the promotion of related knowledge."
Membership in other associations includes:
Ohio Florist Association
Natural Organic Farmers Association of New York (NOFA, NY)
Pennsylvania Association for Sustainable Agriculture (PASA)